If you're looking for a day (or a lifetime) near the beach, Los Angeles is the place to be. With many miles of gorgeous coastline, there is something for everyone. Whether you're looking for a trendy beach adventure to pair with your brunch, a local court to play beach volleyball, or sweeping vistas and cliff-enclosed stretches of sand, you can find it here.
Los Angeles beaches you'll love
Santa Monica Pier - FIRST (put in order of S→N)
The Santa Monica Pier is a popular tourist attraction in the greater Los Angeles area. It's a historic landmark that dates back to the early 1900s and is home to a variety of shops, restaurants, and amusement park rides. The pier stretches into the Pacific Ocean and is famous for its Pacific Park rides, including the first solar-powered Ferris wheel, the historic merry-go-round, street performances, and the end of Route 66. Take a stroll on the pier or a swim in the Pacific Ocean via the Santa Monica Pier.


Residents of Santa Monica real estate reside just one mile from this pristine beachfront spot, and Venice homes for sale are within three miles.

Venice Beach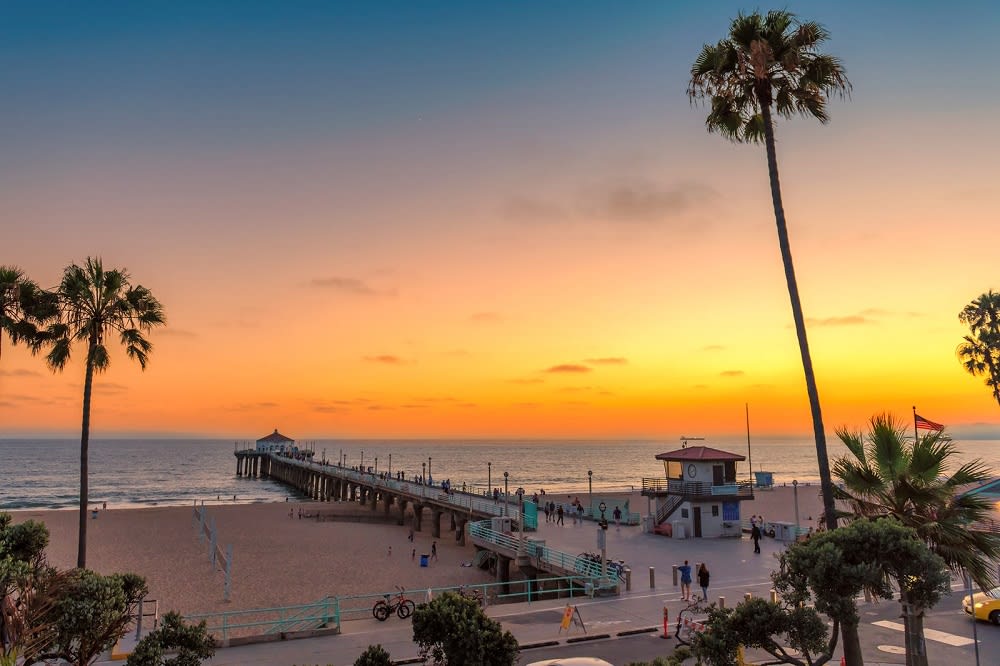 Venice Beach is a world-famous beach located in the city of Venice, California. Constructed with an Italian theme in mind—including canals, pedestrian bridges, and piazzas—this beach opened in 1905. Perhaps best known for its boardwalk, with street performers like mimes and musicians, Venice Beach is a popular spot for artists, who often set up their easels and paint the passersby and the beautiful ocean views. There are a variety of boutiques and stores located on
Abbot Kinney Boulevard
on the south end of the beach, offering everything from handmade jewelry to vintage clothes. Nearby, there are many gorgeous homes located along the canals, and even locals who don't live on these streets can be found taking their evening walks along the water. When you're ready for a bite to eat, visit local favorites like
Hinano Café
or the
High Rooftop Lounge
.

Roughly 2.5 miles from Santa Monica real estate, Venice Beach can be reached via Lincoln Boulevard. Venice homes for sale are about half a mile from Venice Beach.

Will Rogers State Beach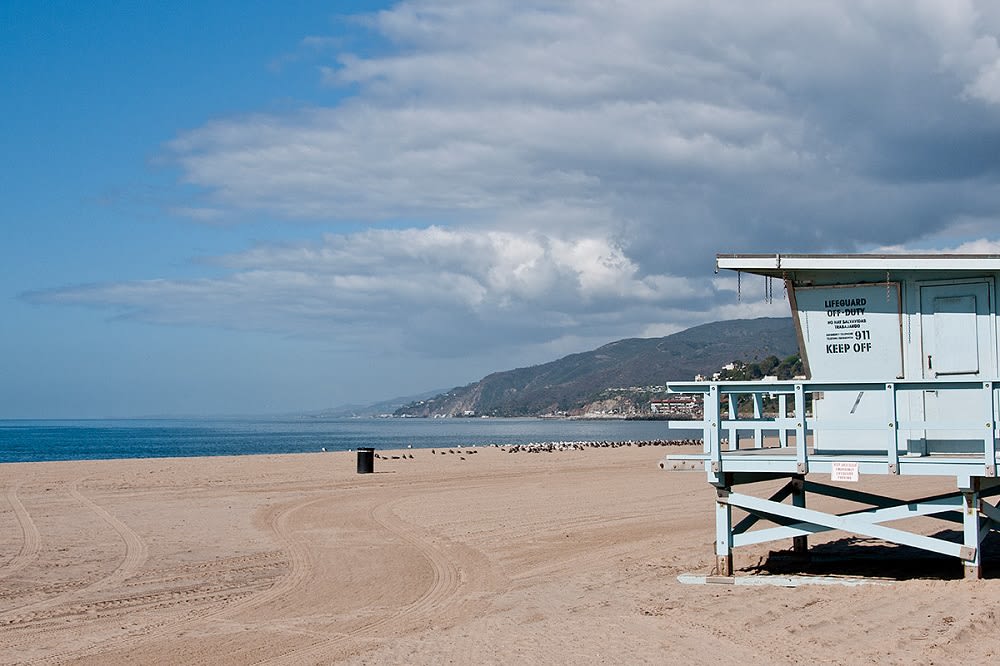 Will Rogers State Beach is a beautiful beach with plenty to offer located in Santa Monica. You can go swimming, surfing, windsurfing, sailing, or play volleyball on one of the many courts. This beach is also a great place to picnic, with plenty of picnic tables available for visitors.
Will Rogers State Beach is roughly 4 miles from Santa Monica real estate and six miles from Venice homes for sale.

Playa del Rey
Playa del Rey Beach is a stretch of pristine beachfront just south of Dockweiler Beach. The beach is less crowded than popular tourists spots like the Santa Monica Pier and Venice Beach. While the neighborhood surrounding the beach is full of residential development, it somehow still manages to feel remote. Visitors should have an easy time finding on-street parking near this beach. Aside from swimming and surfing, beachgoers can enjoy a volleyball game at one of the courts or take a bike ride down The Strand.

Playa del Ray Beach is located approximately 10 miles from Santa Monica real estate and eight miles from Venice homes for sale.

Manhattan Beach - LAST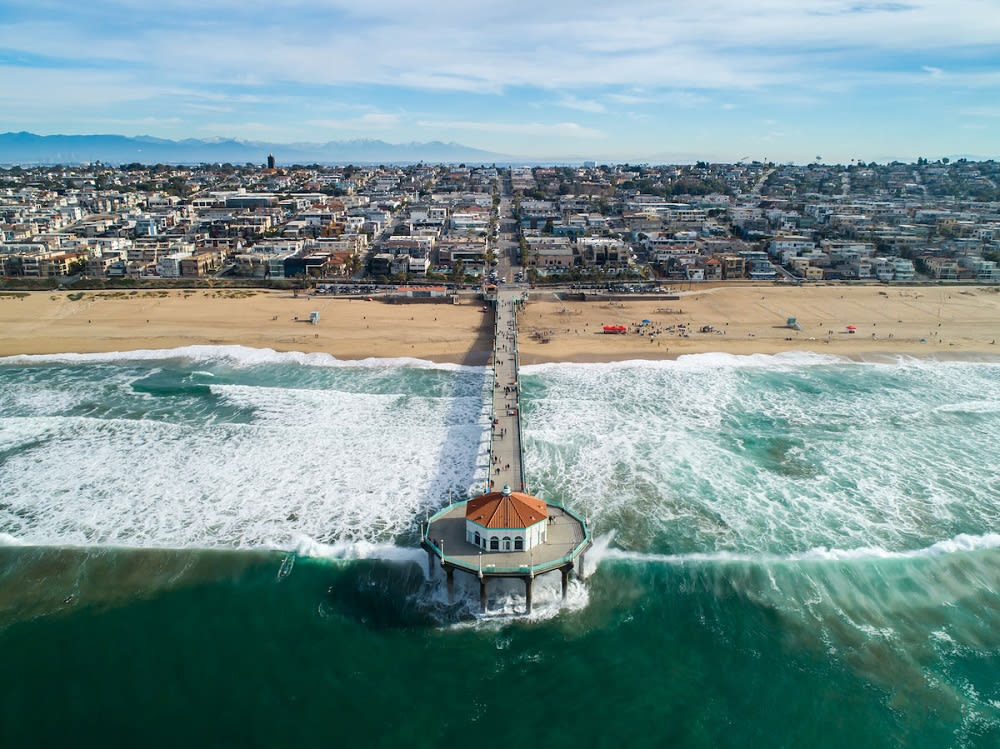 Manhattan Beach is well-maintained, with a wide and sandy stretch of beach monitored by lifeguard stands. You can often see local celebrities strolling the boardwalk. The pier is home to a small aquarium sure to please families. Aside from swimming and sandcastle making, visitors can enjoy a bike ride along The Strand.
Manhattan Beach is located 11 miles from Santa Monica real estate and 10 miles from Venice homes for sale.

El Matador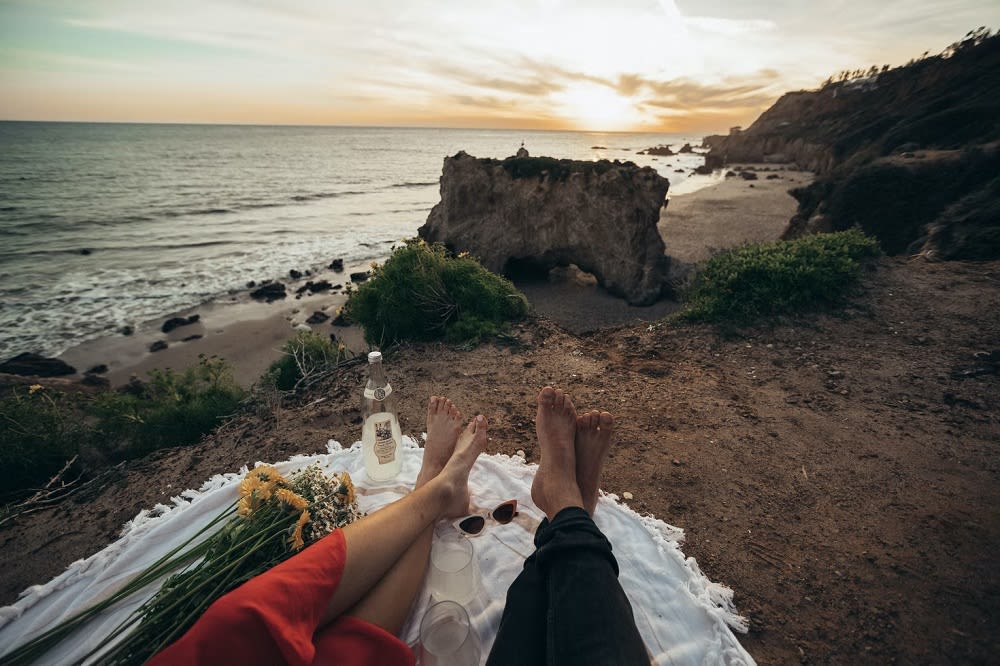 If you drive north from Santa Monica, Malibu is loaded with incredible beaches that are perfect for a day of adventure. Perhaps the smallest of the beaches on this list when it comes to actual sand area, El Matador is hidden from the PCH by the bluffs that tower over this stretch of shore. At the top, a parking lot and cliff-top picnic tables give great views of the ocean — and they're a great place to take in the glorious sunset. A rocky path leads down to a wooden stairway, which will bring visitors to a small stretch of sand that is often populated by birds and locals. If you're looking for the best swimming or surfing beaches, this won't top your list as the rocky shore makes it dangerous, but if you're looking for a casual picnic, a beach-side reading day, or a romantic stroll along the water, the views from here are unparalleled.
Interested in Venice and Santa Monica homes for sale?
Bulldog Realtors
are experienced, multilingual agents who provide local market analysis, skilled negotiation, and excellent customer service for every client. The team has deep experience with global transactions, and they specialize in single-family beachfront homes near Santa Monica and Venice Beach. If you're ready to view the best inventory of available waterfront homes,
contact Bulldog Realtors today
.