If the pandemic taught us anything, it's that our home is more than just a place to make a meal or lay our head.

Particularly in the seaside enclaves of Pacific Palisades, Santa Monica, and Venice, the region's contemporary properties are more akin to mixed-used estates than standard homes.

They're equal parts remote office and private sanctuary—a place to work out, hang out, or chill out. We can watch the latest movie release from the comfort of our couch, prepare a world-class dinner or attempt to bake some artisan bread.

And we haven't even discussed the sanity-saving retreat our backyards have become. Whether it's a massive yard, a fully equipped playset, a refreshing pool, or a stunning view, the exterior of our homes proves just as vital as what's inside.

Contemporary design, more than most, can take all of those disparate wants and needs and bring them together under a single, cohesive roof. Instead of four plain walls to live in, contemporary homes give us an immaculately refined private oasis in which to live, work and play.

It's no surprise, then, that luxury buyers love these seven contemporary home amenities.


1. A premium, natural location
Contemporary homes are at their best when they're constructed in natural environments. It makes sense, considering these homes often incorporate a number of natural components into their sleek, clean, minimalist designs.

With that in mind, it's relatively easy to predict that contemporary home buyers will seek out their prize property in a premier location that embraces its natural surroundings.

Communities such as Pacific Palisades, Santa Monica, and Venice are prime settings for those seeking a serene, contemporary coastal lifestyle.

This region of the Southern California coast offers well-crafted homes with an aura of exclusivity around them. Many neighborhoods offer an abundance of privacy, plus quick and easy access to the heart of each locale.

That proximity is another huge selling point.

Though the cachet that comes with a Pacific Ocean address remains the priority, buyers love the walkable neighborhoods, high-end shops and dining, nearby outdoor pursuits, and, most important, easy access to the beach.
2. Open, airy floor plans
One of the hallmarks of the contemporary home is an open floor plan.

Particularly in the main living areas of the property, buyers are looking for spaces that effortlessly flow from one room to the next. Contemporary rooms are often defined solely by the furniture they contain.

Buyers also expect these rooms — kitchen, family room, and formal and casual dining spaces — to be bathed in light. The most dramatic light source often stems from the home's floor-to-ceiling windows.

But a discerning buyer who is well-versed in contemporary design expects a home filled with neutral, natural materials to further enhance the aesthetic.

Even better if the house features additional contemporary highlights, such as a floating staircase that mixes wood, steel, and glass elements or clerestory windows that help rain light down into the home.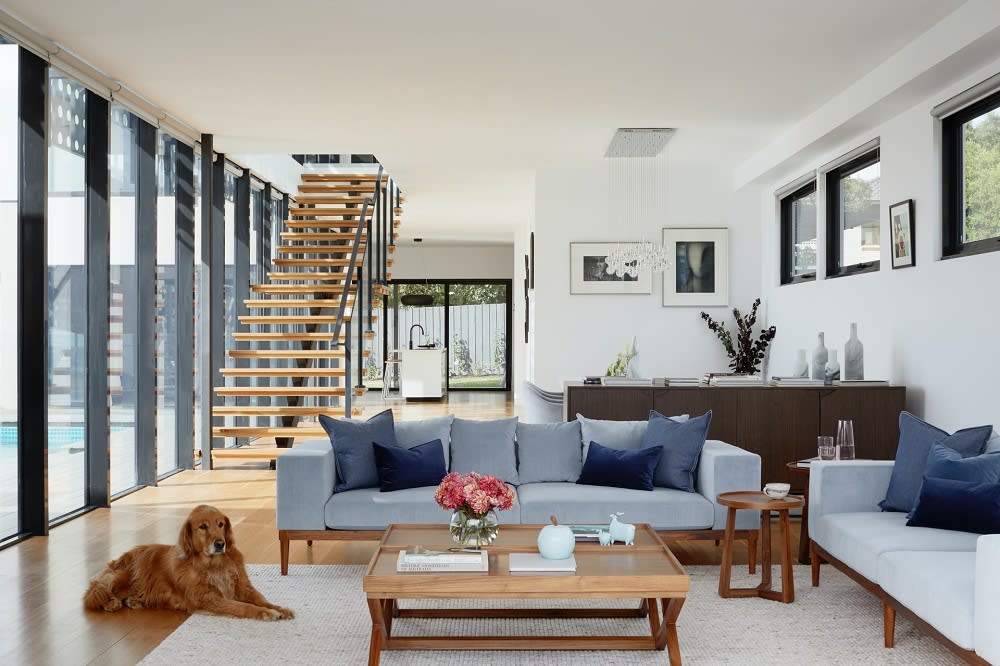 3. Rooms with purpose
Contemporary style is often lauded for its flexibility. Home shoppers are drawn to this feature, as it allows them to shape interior areas to their specific needs. Spaces with functionality serve to enhance the home's livability.

In the midst of the pandemic, a dedicated office and a home gym were high on everyone's list of wants. A home office remains a sought-after amenity. Though some organizations are welcoming employees back into their corporate or regional offices, many more are embracing remote work and hybrid work models as the future of productivity. Buyers want a remote office space that rivals the one they once commuted to.

There is a certain luxury in grabbing a workout whenever you want. Home gyms catered to this, and their popularity sky-high towards the end of 2020. Fast forward to the middle of 2021, and having your own mini gym with a Peloton, Tonal, or Mirror machine a step away remains a highly desired luxury.

If a home doesn't already have dedicated rooms for work and exercise, a contemporary property provides the best opportunity to add them without impacting the integrity of the floorplan.
4. Smart and efficient homes
Intelligent home technology is a major selling point for contemporary home buyers. And it's not enough to have the option to add smart home gadgets themselves. They want their next home fully automated the day the deal closes.

The most popular technologies include intelligent security systems (including cameras and smart locks and video recording), remote access to the home, automated lighting (especially for the home's exterior), and advanced control over the home's entertainment systems.

Buyers expect much, if not all, of this tech to be accessible via their smartphone or feature voice-activated capabilities.

They also expect their technology to be energy-efficient. Smart thermostats are so ubiquitous in houses across every price point, buyers have come to expect them in their upscale contemporary property. The same can be said for Energy Star appliances, windows, ceiling fans, HVAC systems, water heaters, pool pumps, and networking equipment.

Although they're not as prevalent, homes with solar panels or roofing are incredibly attractive features for environmentally conscious house hunters.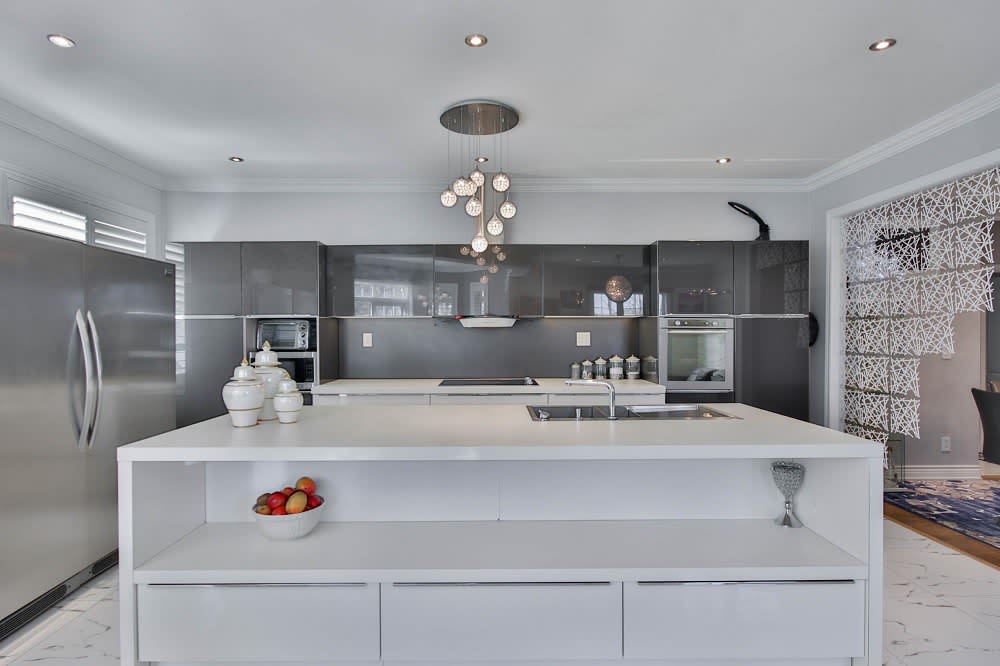 5. Commercial-grade kitchen
Luxury contemporary homes are designed and built with entertaining in mind. Large open floor plans. Multiple dining spaces. Flexible rooms that can play to a crowd or host an intimate gathering. And the centerpiece for this grand engagement area is the kitchen.

The kitchen in a contemporary home is no modest affair. Due to the lack of walls, the food prep area is exposed to every other room on the main living floor. As a result, buyers expect it to make a commercial-grade statement.

There's an expectation that these kitchens can host an executive chef or caterer and handle cooking, food service, and a decent number of party guests congregating around the island.

And upscale finish-outs are the rule, not the exception, in a contemporary luxury kitchen.

Bold countertops and natural flooring are de rigueur here. High-end, commercial-grade appliances — such as double-door reach-in refrigerators, dual ovens, warming drawers, built-in coffee and espresso machines, double dishwashers, six-burner stovetops with a griddle and a pot filler, a wine and beverage fridge, multiple sinks, and walk-in pantries can accommodate food and small appliance storage — are also desirable.

But because this room is also the heart of the home, buyers appreciate a grand kitchen that serves as a meeting spot for family members who are coming and going. Extra seating around the main island or secondary bar space is a plus.
6. An equally grand outdoor space
Considering this is Southern California, festive social engagements or an evening spent among friends rarely remain indoors. The best contemporary homes often mirror the vast, open spaces of their interiors with expansive outdoor areas.

The oversized decks and patios serve to extend the home's livability, and no expenses are spared. Designer pools with sunbathing ledges and attached hot tubs are standard features. Adjacent pergolas or cabanas provide shelter from the sun's warm rays. A water feature or two only adds to the environment and woos a buyer's sensibilities.

Of course, the outdoors along the Pacific Ocean offer the perfect excuse to cook and dine under bright blue daylight or at night with a sky full of stars. It's not a true luxury home unless it has an outdoor kitchen with a grill, side burners, mini-fridge, a sink, and a stainless steel food preparation counter.

Up and down the Pacific coastline, some of the best outdoor spaces extend from a high-end contemporary home and represent the height of California cool.
7. A sustainable home
We mentioned it earlier, but one of the contemporary home's most vital selling points — and what draws many buyers to this design style — are its sustainable features.

Thanks to the push toward green, eco-friendly living, homes that incorporate sustainable building materials and conservation-based HVAC and plumbing systems are some of the most sought-after in the marketplace.

Even better if construction utilizes environmentally sound building practices and uses brick, stone, and iron sourced from recycled or reclaimed materials. Wood can be through sustainable forestry or from easily replenishable sources — bamboo or cork, for example.

We already spoke to energy-efficient heating and cooling and plumbing systems, but an environmentally conscious home buyer loves it when the home takes it all a step further. This includes comprehensive insulation and well-sealed ductwork that adhere to long-term sustainability standards.

And if the home goes full eco-mode — solar power, geothermal energy system, water retention, and reuse capabilities — few contemporary home buyers will say no to that.


Are you ready to explore the best of Westside L.A.'s beach communities and discover your perfect luxury contemporary home? Get in touch with the best realtors in Los Angeles—Bulldog Realtors—today for a tenacious and unconventional approach to your home buying journey.

From homes for sale in Pacific Palisades to Venice and Santa Monica real estate, allow the Bulldog team's years of experience and expertise to be your guide to coastal L.A.'s luxury real estate scene.